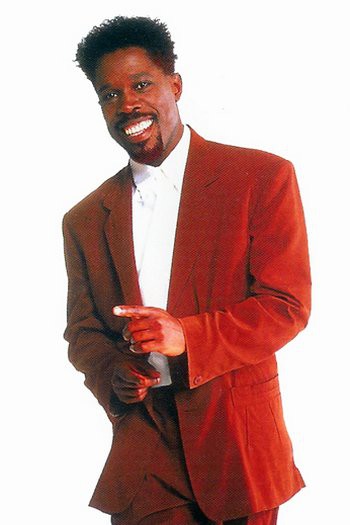 At TrueColorsRadio sings:
1.
Caribbean Queen (No More Love On The Run)
83
2
DeeDee
2.
Get Out Of My Dreams
61
4
Original name
Leslie Sebastian Charles
Date of birth
21.01.1950
(67)
Place of birth
Fyzabad, Trinidad and Tobago
Total songs:
2
Likes:
144
Dislikes:
6
Awards
1985 - Grammy for Best Male R&B Vocal Performance (Carribean Queen)
2002 - awarded as Honorary doctorate of music
2010 - the MOBO Award (awards in "Music of Black Origin")

Billy moved to Romford, Essex, England, with his family at the age of 8. Ocean's musical influence came at an early age of his life as his father was a musician, and Ocean realised he was in line to follow those ambitions as he was growing up. During his teenage years, he sang regularly in London clubs while also working as a tailor in London's Savile Row. He was working successfully when, one day on the job, he heard one of his singles on the radio. Ocean was promptly fired from that job because he "wasn't one hundred percent with the firm,".

He released his first single in 1972 on Spark Records as Les Charles. He was originally discovered by his first manager, John Morphew, who recorded a double A-side single at Pye Studios in London with a full orchestra. However, the ballad singing style of Les was going out of fashion and Morphew was unable to get any major label to release it. It remains unissued.

Ocean took his stage name from the Ocean Estate, Stepney in London's East End, where he was living at the time. In 1976, he recorded his first album, Billy Ocean, with its first single release, "Love Really Hurts Without You," charting at number 2 in the UK Singles Chart and number 22 in the U.S. Billboard Hot 100. Ocean's period of greatest success began with the releases, during 1984, of the album Suddenly and its main single, "Caribbean Queen (No More Love On The Run)." The song's title and lyrics were changed for different regions, such that the song is also known as "African Queen" or "European Queen." The song won Ocean the Grammy Award for Best Male R&B Vocal Performance at the 1985 Grammy Awards. His 1986 album Love Zone also sold well. It included the successful singles "When the Going Gets Tough, the Tough Get Going and "There'll Be Sad Songs (To Make You Cry)". Ocean's next album, Tear Down These Walls (1988) featured another number one single, "Get Outta My Dreams, Get into My Car", while the album was certified platinum.
Having sold over 30 million records worldwide and topped the charts across America, Europe and Australasia, Grammy-winning Billy Ocean is without question the biggest black recording artist Britain has ever produced.




He received his first musical instrument, a ukulele, from a friend of the family when he was three. "The other kids in the village all had guns to play war," Ocean told People. "I got a guitar and played calypso."
At age twenty-five he was working in a Ford auto assembly plant when his single "Love Really Hurts" hit number two on the U.K. charts. He quit the job and never went back.

"He doesn't have a mansion," writes Rolling Stone's Michael Azerrad. "He drives a Volkswagen Golf. 'Material things are too much for the mind,' Ocean says dismissively. He is vaguely spiritual, but he doesn't go to church. Ocean doesn't touch cigarettes or alcohol and stays out of the whirl of publicity and parties that he calls 'the socializing thing.' In his leisure time he likes to do a bit of gardening."

He knows what he is trying to accomplish with his music, and he knows his own limitations. He's only giving his fans more of what they want. "I just try to instill happiness in my music," he told Rolling Stone. "You know, my songs may not be the best songs in the world, but I really think that what I lack in talent and everything, I gain in approach. I just want it to be fun. I just want it to be loose."

On 29 July 2011, Ocean became a Companion of the Liverpool Institute for Performing Arts. His title was presented by Sir Paul McCartney.
The note prepared by
Mikhail Bor