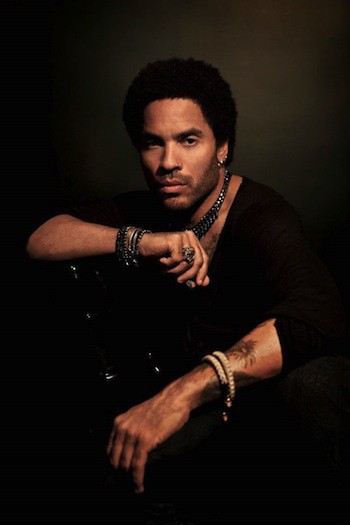 At TrueColorsRadio sings:
1.
Thinking Of You
211
21
2.
I Belong To You
191
16
Lapshin
3.
It Ain't Over Till It's Over
138
14
Lapshin
4.
Heaven Help
51
1
Original name
Leonard Albert «Lenny» Kravitz
Date of birth
26.05.1964
(58)
Place of birth
New York City, NY, USA
Total songs:
4
Likes:
591
Dislikes:
52
Awards
4 Grammy Award
2002 - American Music Awards
1993 - MTV Video Music Awards
2001 - Radio Music Awards
1994 - BRIT Awards
2001 - Blockbuster Entertainment Awards
2011 - Officer of the Ordre des Arts et des Lettres

Kravitz is the son of Roxie Roker, an actress known for her character Helen Willis in the 1970s hit television sitcom The Jeffersons, and Sy Kravitz, an NBC television news producer. His father was from a Russian Jewish family.
Kravitz was named after his uncle, Private First Class Leonard M. Kravitz, who was killed in action in the Korean War at the age of 20, while defending against a Chinese attack and saving most of his platoon.
Kravitz began banging on pots and pans in the kitchen, playing them as drums at the age of three. At the age of five, he wanted to be a musician. He began playing the drums and soon added guitar. Kravitz grew up listening to the music his parents listened to: R&B, jazz, classical, opera, gospel, and blues. Around the age of seven, he saw The Jackson 5 perform at Madison Square Garden, which became his favorite group.

n 1974, the Kravitz family relocated to Los Angeles when Kravitz's mother landed her role on The Jeffersons. At his mother's urging, Kravitz joined the California Boys Choir for three years, where he performed a classical repertoire, and sang with the Metropolitan Opera. He took part in Mahler's Third Symphony at the Hollywood Bowl. It was in Los Angeles that Kravitz was first introduced to rock music, listening to Led Zeppelin, Kiss, Aerosmith, Jimi Hendrix, Pink Floyd, Cream, and The Who. In 1978, Kravitz was accepted into the school's well-respected music program. He taught himself to play piano and bass, and made friends with Zoro who would later become his long-time collaborator. Kravitz wanted to be a session musician. He also appeared as an actor in television commercials during this time.


Kravitz released his début album Let Love Rule on September 6, 1989, a combination of rock and funk with a general 1960s vibe. Music critics were mixed: some felt Kravitz was a gifted new artist, others felt he was overpowered by his musical influences.
In 1990, Kravitz produced the song "Justify My Love" for Madonna, which he co-wrote with Ingrid Chavez. The song, which appeared on her greatest hits album The Immaculate Collection and created controversy because of its explicit video, went to number 1 for two consecutive weeks. When MTV banned the video, the video was quickly made available for sale at record stores, and immediately sold over 500,000 copies. Kravitz separated from Lisa Bonet in 1991, amid rumors of an affair between him and Madonna. Kravitz has denied any infidelity. Kravitz and Bonet divorced in 1993.

In 1991, Kravitz produced the self-titled album Vanessa Paradis for French singer and actress Vanessa Paradis. He played most of the instruments and co-wrote most of the songs on the album. He also released his second album, Mama Said, which was his first album. The songs on the album were about Bonet and dedicated to her, documenting his depression over their breakup. Kravitz's biggest single yet, "It Ain't Over 'Til It's Over," went to number 2 on the Billboard Hot 100. The single "Always on the Run," a tribute to his mother, featured Slash on guitar.

Kravitz released his sixth album Lenny in October 2001. The album was recorded in Miami. Kravitz wrote the song "Bank Robber Man" after the Miami Police Department detained and cuffed him while walking to the gym with his trainer because police stated that he matched the description of a bank robber. Kravitz did not have any identification with him at the time and the police on the scene did not believe that he was indeed Lenny Kravitz. The bank teller who was robbed was then brought to the scene and said Kravitz was not the bank robber. Miami Police later sent officers to Kravitz's home to apologize for the detention. When asked if he thought the incident was a case of racial profiling, Kravitz said he wasn't sure although some of the lyrics in the song suggest otherwise.

In 2001, he began dating with model Adriana Lima. In 2002, the couple was engaged, but less than a year later the engagement was called off.Kravitz identifies himself as a Christian, "through choice but I'm also a Jew, it's all the same to me". During another interview Kravitz stated, "I'm half Jewish, I'm half black, I look in-between." He also notes that spirituality "has been an important issue in my growth", given his upbringing by parents of different faiths. Such spirituality is prominently featured on many of his songs, such as the lyrics on his album Baptism, and having his back inscribed with a tattoo stating, "My Heart Belongs to Jesus Christ."
The note prepared by
Darya Denisova