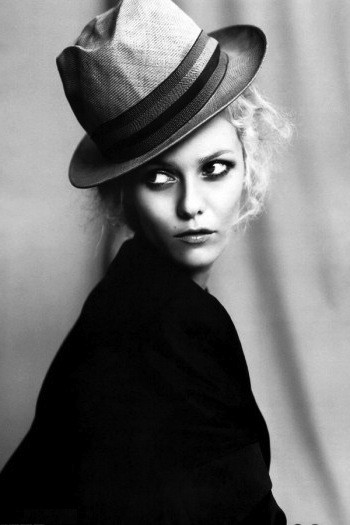 At TrueColorsRadio sings:
1.
La La La Song
101
20
Lapshin
2.
Joe Le Taxi (Live)
50
39
Original name
Vanessa Chantal Paradis
Date of birth
22.12.1972
(49)
Place of birth
Saint-Maur-des-Fossés, Val-de-Marne, France
Total songs:
2
Likes:
151
Dislikes:
59
Awards
1990 - César Award for Most Promising Actress for her role in Noce Blanche. 1990 - Prix Romy Schneider for Most Promising Actress for her role in Herself. 1991 - Victoire de la Musique awards for Best Female Artist and Best Music Video. 2007 - Ordre des Arts et des Lettres 2008 - Two 'Les Victoires de la Musique' awards for the Divinidylle album. 2012 - Prix Génie and Prix Jutra for Best Actress. 2012 - Cabourg Romantic Film Festival Swann d'honneur.

Vanessa Paradis was born to interior designers André and Corinne Paradis. She began to develop her singing career at the age of eight when her uncle, record producer Didier Pain, helped her appear on the local television program L'École des fans, a talent show for child singers. She became a child star at 14 with the worldwide success of her single Joe le taxi.

In 1992, she moved to the United States to work with Lenny Kravitz. The album, titled Vanessa Paradis, topped the French chart and briefly made the UK listings. One of the singles from it was "Be My Baby", which made the Top ten in France and the UK. In March 1993, Paradis started her first international tour, the Natural High Tour; she performed in France, England and Canada.
In April 1994, Paradis filmed Élisa, under the direction of Jean Becker. Elisa was a big success in France, and was released internationally.

In 1997, Paradis played in Un amour de sorcière with Jeanne Moreau and Jean Reno, before filming Une chance sur deux, with Alain Delon and Jean-Paul Belmondo. In March 1999, La fille sur le Pont, by Patrice Leconte was released.
In 2004, she promoted Chanel's new handbags called Ligne Cambon. In 2005, she modeled for Chanel again for The New Mademoiselle handbag. In 2008, she modelled for Miu Miu. On the musical side, she was included in the French children's album and concert Le Soldat Rose in 2006.


Paradis released a new album (Divinidylle) in 2007.
She released an acoustic album in November 2010 entitled Une nuit à Versailles. The album was recorded at L'Opéra of the Palace of Versailles during her Vanessa Paradis Concert Acoustique Tour. She also released a set of DVDs in 2010 called Anthologie which collected rare live performances and interviews from 1987–2007. In 2010, she became the face of Chanel's new lipstick, Rouge Coco, and also became the face of their new handbag line Ranger. Her 2011 international tour included performances in the United States, Canada, the United Kingdom, Europe and Turkey.

From 1988 to 1991, Paradis dated French singer Florent Pagny. In 1992, she started dating Lenny Kravitz. Afterward, she dated French-Slovenian actor Stanislas Merhar, until their breakup in 1998. From 1998 to 2012, Paradis was in a relationship with American actor Johnny Depp. They have a daughter, Lily-Rose Melody Depp (born 1999), and a son, John Christopher "Jack" Depp III. Rumours of a separation began surfacing as early as January 2012; until Depp's representative officially announced their breakup on 19 June 2012 .
The note prepared by
Natali Chapliuk