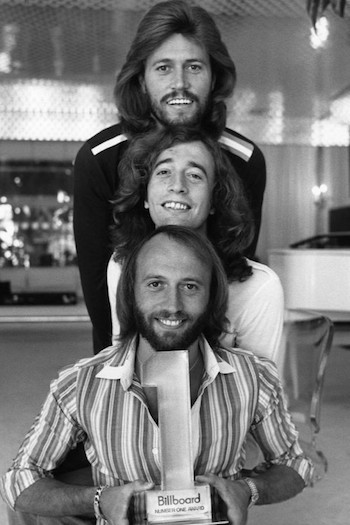 At TrueColorsRadio sings:
1.
Too Much Heaven
158
24
Lapshin
2.
Closer Than Close
139
13
AVG
3.
Love You Inside Out
130
25
Gritsouk
4.
How Deep Is Your Love
108
13
5.
You Should Be Dancing
104
16
Lapshin
6.
Still Waters Run Deep
95
25
Mik3
7.
Guilty
64
5
8.
More Than A Woman
58
14
9.
Night Fever
52
13
10.
Stayin' Alive
49
19
ColorkoVA
11.
Here Comes The Sun
46
6
12.
Jive Talkin'
14
7
ColorkoVA
Place of birth
Manchester, UK
Total songs:
12
Likes:
1017
Dislikes:
180
Awards
1997 - BRIT Awards (Outstanding Contribution To Music)
1997 - World Music Awards (Legend Award)
2000 - Grammy Awards (Lifetime Achievement Award)

The Bee Gees were a musical group founded in 1958. The group's line-up consisted of brothers Barry, Robin, and Maurice Gibb. The trio were successful for most of their decades of recording music, but they had two distinct periods of exceptional success: as a rock act in the late 1960s and early 1970s, and as prominent performers of the disco music era in the late 1970s.

Born on the Isle of Man to English parents, the Gibb brothers lived in Chorlton, Manchester, England, then moved in the late 1950s to Redcliffe, Queensland, Australia, where they began their music careers.
After achieving their first chart success in Australia with "Spicks and Specks", they returned to the United Kingdom in January 1967 where producer Robert Stigwood began promoting them to a worldwide audience.

The Bee Gees' career record sales total more than 220 million ranking them among the best-selling music artists of all time.
They were inducted into the Rock and Roll Hall of Fame in 1997; the presenter of the award to "Britain's first family of harmony" was Brian Wilson, historical leader of the Beach Boys, a "family act" also featuring three harmonising brothers.
The Bee Gees' Hall of Fame citation says "Only Elvis Presley, the Beatles, Michael Jackson, Garth Brooks and Paul McCartney have outsold the Bee Gees."

Following Maurice's unexpected death in January 2003, Barry and Robin retired the group's name after 45 years of activity.
In 2009 Robin announced that he and Barry had agreed that the Bee Gees would re-form and perform again.


They had huge success singing Disco songs in the '70s. They popularized the falsetto singing style of that era.

When Robin was 17, he was on a train in England that crashed, killing 49 passengers. He escaped with cuts and bruises.

Maurice was a paintball fanatic. He competed in tournaments.
He died in 2003 after he was rushed to a hospital for stomach pains. He went into cardiac arrest, and the surgery could not save him.

The Bee Gees are prolific songwriters, having written or co-written about 1,000 songs to date. Surviving brothers Barry and Robin continue to write music.
Over 2,500 artists have recorded their songs. "How Deep Is Your Love" is the most covered of all, with over 400 versions.
The note prepared by
Anna Votinova