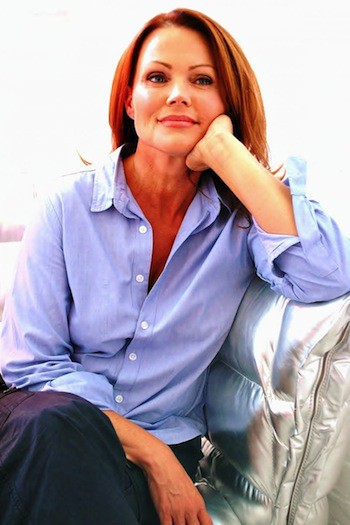 At TrueColorsRadio sings:
1.
Circle In The Sand
70
1
2.
Summer Rain
65
2
Gritsouk
3.
Heaven Is A Place On Earth
49
1
DeeDee
Original name
Belinda Jo Carlisle
Date of birth
17.08.1958
(64)
Place of birth
Hollywood, Los Angeles, California
Total songs:
3
Likes:
184
Dislikes:
4
Awards
On August 11, 2011, she received, as a member of the Go-Go's, a star on the Hollywood Walk of Fame.
Nominations:
1988 Pop Female Vocalist - Grammy Awards
1986 Favorite Female Video Artist - Pop / Rock - American Music Awards
1986 Favorite Video - Pop / Rock - American Music Awards

Belinda was born to Harold, a travelling vacuum cleaner salesman, and his wife, Joanne, who raised the children at home. The first of seven siblings, with three brothers and three sisters, she was five years old when her father abandoned the family and upon her mother's second marriage, did not have a close relationship with her stepfather, Duke Kurczeski. Growing up in Ventura County's Thousand Oaks (part of the Greater Los Angeles Area), she was a cheerleader at Newbury Park High School and, at the age of 19, left home.

Carlisle's first venture into music was a brief stint as drummer for the punk band the Germs, under the name Dottie Danger. Around this time Carlisle did some back-up singing for Black Randy and the Metrosquad. Soon after leaving The Germs, she co-founded the Go-Gos. The group became one of the most successful American bands of the 1980s, helping usher New Wave music into popular American radio, and becoming the first all-female band who wrote their own music and played their own instruments to ever achieve a No. 1 album, Beauty and the Beat, which featured the hits "We Got the Beat" and "Our Lips Are Sealed". In 1984, Carlisle made a foray into acting in the movie Swing Shift starring Goldie Hawn and Kurt Russell and performed backing vocals for the Don Henley recording of "She's on the Zoom" from the Vision Quest soundtrack.

Carlisle's first solo album Belinda was released in 1986, also on I.R.S. Records. This album was successful in North America and was certified Gold in the US and Platinum in Canada.
Carlisle changed her hairstyle significantly for her second solo album, giving up her California Girl blonde bob for a long auburn style for 1987's Heaven on Earth. The musical style eschewed the 1960s-influenced pop of Carlisle's first album in favor of slickly produced 1980s power-pop, and was released in the United States through MCA, and in the United Kingdom through Virgin. The album became a Top 5 bestseller in the UK and Australia, and was nominated for a Grammy Award. Carlisle's follow-up to the success of Heaven on Earth was Runaway Horses, released 1989. The album hit the Top 5 in both Australia and the UK, certified double platinum in Australia and platinum in the UK and in Canada, but failed to reach similar success in the US.
In 2001, the Go-Go's reunited again and released an album of new material, God Bless The Go-Go's. Green Day's lead singer Billie Joe Armstrong co-wrote the only released single "Unforgiven". God Bless The Go-Go's received mixed reviews from critics. Rolling Stone wrote "Every bit as Go-Go's, that is, as their non-hits and less remarkable material. While the Go-Go's sound is intact, there is not a "We Got the Beat" or a "Head Over Heels" to be found. It is feasible that in this age of pop rebirth, the Go-Go's decided it was now or never".

Around the time of the Go-Go's definitive reunion tour, Carlisle appeared nude for the cover feature and a full pictorial of the August 2001 edition of Playboy.


In 1986, Carlisle married Morgan Mason, film producer and former Special Assistant to the President of the United States, as well as the son of British actor James Mason. Mason made appearances in Carlisle's videos "Mad About You" and "Heaven Is a Place on Earth". They have a son, James Duke Mason, born on April 27, 1992.

In an interview, printed on March 7, 2007, the singer stated that: "I was wondering about happiness and started reading a lot of books by the Dalai Lama, and slowly embraced Buddhism". She told the Sydney Morning Herald: "I don't smoke any more, I don't drink any more and I don't do drugs any more. I am very much into my Buddhism. I found turning 40 a real passage in time for me."
The note prepared by
Alexandre Gritsouk