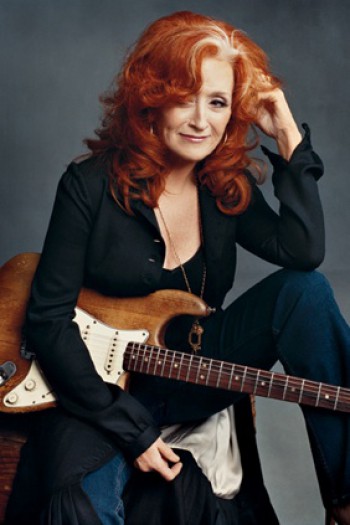 At TrueColorsRadio sings:
1.
Nick of Time
134
3
Mik3
Original name
Bonnie Lynn Raitt
Date of birth
08.11.1949
(73)
Place of birth
Burbank, California, USA
Total songs:
1
Likes:
134
Dislikes:
3
Awards
10 Grammy Awards
#50 in Rolling Stone magazine's list of the 100 Greatest Singers of All Time
#89 in Rolling Stone magazine's of the 100 Greatest Guitarists of All Time

Raitt was born in Burbank, California. She is the daughter of Broadway musical star John Raitt and his first wife, pianist Marjorie Haydock. She began playing guitar at an early age. Later she gained notice for her bottleneck-style guitar playing. Raitt says she played "a little at school and at a summer camp" called Camp Regis-Applejack in New York. After graduating from Oakwood Friends School in Poughkeepsie, New York, in 1967 Raitt entered Radcliffe College majoring in social relations and African Studies. Raitt said her "plan was to travel to Tanzania, where President Julius Nyerere was creating a government based on democracy and socialism". Raitt became friends with then 65-year-old bluesman Dick Waterman. During her second year Raitt took a semester off and moved to Philadelphia with Waterman and a number of local musicians. Raitt says it was an "opportunity that changed everything."

In the fall of 1970, while opening for Mississippi Fred McDowell at the Gaslight Cafe in New York, she was seen by a reporter from Newsweek Magazine, who began to spread word of her performance. Scouts from major record companies were soon attending her shows to watch her play. She eventually accepted an offer with Warner Bros. who soon released her debut album, Bonnie Raitt, in 1971. The album was warmly received by the music press, many of whom praised her skills as an interpreter and as a bottleneck guitarist; at the time, very few women in popular music had strong reputations as guitarists.
While admired by those who saw her perform, and respected by her peers, Raitt gained little public acclaim for her work. Her critical stature continued to grow but record sales remained modest. Her second album, Give It Up, was released in 1972 to universal acclaim; though many critics still regard it as her best work, it did not change her commercial fortunes. 1973's Takin' My Time was also met with critical acclaim, but these notices were not matched by the sales. Raitt was beginning to receive greater press coverage, including a 1975 cover story for Rolling Stone Magazine, but with 1974's Streetlights, reviews for her work were becoming increasingly mixed. By now, Raitt was already experimenting with different producers and different styles, and she began to adopt a more mainstream sound that continued through 1975's Home Plate. In 1976, Raitt made an appearance on Warren Zevon's eponymous album with his friend Jackson Browne and Fleetwood Mac's Lindsey Buckingham and Stevie Nicks.


Raitt used alcohol and drugs, but began psychotherapy and joined Alcoholics Anonymous in the late 1980s. She has said "I thought I had to live that partying lifestyle in order to be authentic, but in fact if you keep it up too long, all you're going to be is sloppy or dead." She became clean in 1987. She has credited Stevie Ray Vaughan for breaking her substance abuse, saying that what gave her the courage to admit her alcohol problem and stop drinking was seeing that Stevie Ray Vaughan was an even better musician when sober. She has also said that she stopped because she realised that the 'late night life' was not working for her. In 1989 she said "I really feel like some angels have been carrying me around. I just have more focus and more discipline, and consequently more self-respect."

Raitt has taken sabbaticals, including after the deaths of her parents, brother and best friend. She has said "When I went through a lot of loss, I took a hiatus." Raitt and actor Michael O'Keefe were married on April 27, 1991, when he was 36 and she 41. They announced their divorce on November 9, 1999, with a causal factor appearing to be that their careers caused considerable time apart.

Raitt's principal touring guitar is a customized Fender Stratocaster.: "My brown Strat—the body is a '65 and the neck is from some time after that. It's kind of a hybrid that I got for $120 at 3 o' clock in the morning in 1969. It's the one without the paint, and I've used that for every gig since 1969."
The note prepared by
Alexandre Gritsouk