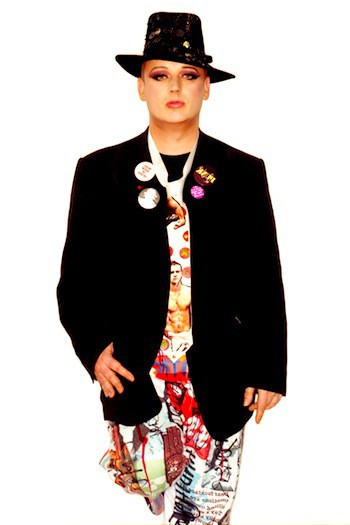 At TrueColorsRadio sings:
1.
You Are My Heroin
110
34
Mik3
2.
Strange Voodoo
108
18
Gritsouk
3.
Karma Chameleon
95
27
4.
I Just Wanna Be Loved
74
18
5.
Do You Really Want To Hurt Me
70
23
Mik3
6.
Don't Cry
65
17
Mik3
7.
Your Kisses are Charity
57
24
8.
Everything I Own
42
8
9.
Time (Clock Of The Heart)
34
15
Shipiloff
10.
The Crying Game
33
19
Gritsouk
Original name
George Alan O'Dowd
Date of birth
14.06.1961
(61)
Place of birth
Bexley, Kent, England
Total songs:
10
Likes:
688
Dislikes:
203
Awards
1999 Got nomination for Grammy Award category Best Dance Recording for "When Will You Learn"
1994 Got nomination for Grammy Award category Best Pop Vocal Performance - Male for "The Crying Game"
1993 Got nomination for MTV Video Music Award category Best Video from a Film for "The Crying Game"
2004 Got nomination for Tony Award category Score (Music and/or Lyrics) for "Taboo"

Boy George was born to Jeremiah and Dinah O'Dowd (nee Glynn), who were originally from Thurles, County Tipperary, Ireland. He lived with his family on the Middle Park Estate at Joan Crescent London SE9. He attended Eltham Green School in Eltham. He is one of six children. His siblings are Richard, Kevin, David, Gerald, and Siobhan.
He was a follower of the New Romantic movement which was popular in Britain in the early 1980s. George frequently lived at the infamous Warren Street Squat in Central London. George and his friend Marilyn were regulars at The Blitz, a trendy London nightclub run by Steve Strange of the group Visage. George and Marilyn also worked at the nightclub as cloakroom attendants


When Boy George was with Culture Club, much was made of his androgynous appearance, and there was speculation about his sexuality. When asked in interviews, George gave various answers. He gave a famous, oft-quoted response to an interviewer that he preferred "a nice cup of tea" to sex. In Take It Like a Man, George told his side of his secret relationships with punk rock singer Kirk Brandon and Culture Club drummer Jon Moss. He stated many of the songs he wrote for Culture Club were directed at Moss. However, one of Culture Club's biggest hits "Do You Really Want to Hurt Me" was about Brandon. Moss acknowledged that he had a sexual and romantic relationship with George, but Brandon denies he ever had a relationship with George.
In 2006, in an episodic documentary directed by Simon George titled The Madness of Boy George, George declared on camera he was "militantly gay". In a 2008 documentary Living with Boy George, he talks about his first realisation he was gay, and when he first told his parents. He discloses that he understands why men fall in love with one another as well as with women.
The note prepared by
Alexandre Gritsouk