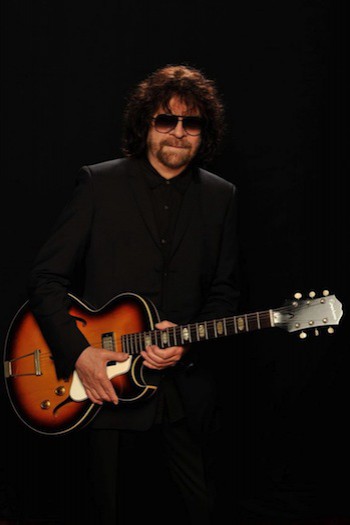 At TrueColorsRadio sings:
1.
Last Train To London
267
26
AVG
2.
Evil Woman
210
24
AVG
3.
The Lights Go Down
166
11
AVG
Original name
Jeffrey Lynne
Date of birth
30.12.1947
(74)
Place of birth
Shard End, Birmingham, England
Total songs:
3
Likes:
643
Dislikes:
61
Awards
1989: crowned "Best Producer" by Rolling Stone magazine.
1996: Ivor Novello Award for "Outstanding Contributions to British Music".
2008: The Washington Times named Lynne the fourth greatest record producer in music history.
2009: American Society of Composers, Authors and Publishers Golden Note Award
2012: nominated as a performer/songwriter for 2013 induction into the Songwriters Hall of Fame.
2013: the Hollywood Chamber of Commerce announced that Lynne is to Receive a Star on the Hollywood Walk of Fame

Jeff grew up in Birmingham. Among many other noble sons of this city, who later become famous musicians, were Steve Winwood, Ozzy Osbourne (Black Sabbath), Nick Mason (Pink Floyd), Denny Laine (Wings), Roger Taylor (Duran Duran) and others.

Jeff's first guitar, an acoustic instrument, was bought for him by his father, for £2 in 1963. It's quite remarkable that in 2012 Jeff was still playing it. At age 16 he formed his first group and soon after acquired his first piece of studio recording equipment. He says it "taught me how to be a producer".

He quickly became excited about the conception of a fully electric rock band augmented by a classical string section and led to the creation of ELO project in 1970 built around a fusion of rock and classical music.

After ELO's popularity died down somewhat during the 1980s, Lynne concentrated on production and songwriting work for fellow major stars like Joe Cocker, Aerosmith, Tom Jones, Bonnie Tyler and former Beatles Paul McCartney and George Harrison among them. Work with George led to formation of the Traveling Wilburys - an all-star amalgam that included Bob Dylan, Tom Petty and Roy Orbison.


Lynne has been married twice. First to Rosemary in 1970 (divorced 1977) and then to Sandi Kapelson in 1979, with whom he has two daughters, Laura (born 1979) and Stephanie (born 1981) He has been in high profile relationships with Rosie Vela and currently Camelia Kath, widow of Chicago guitarist Terry Kath and former wife of Kiefer Sutherland.

Since selling the 15th century Grade II listed Walsh Hall near Meriden to UB40's Robin Campbell in 1995, Lynne currently resides in Beverly Hills, California. He continues to write and produce both for himself and others, producing the highly regarded 2012 album 'Analog Man' for Joe Walsh — his first solo album in 20 years.

Jeff has been making waves in global music history all over the world for more than 40 years. Even after 40 years, ELO's catchy, Beatles-influenced hits continue to permeate pop culture, and the sunglass wearing bearded leader of 70s supergroup Lynne admits it's astonishing that his music has lasted this long. "I'm thrilled to bits about it," he said, "when you're still getting popular requests for them 40 years later -- I would've never dreamed that would happen."
The note prepared by
Alexandre Gritsouk (Senior)