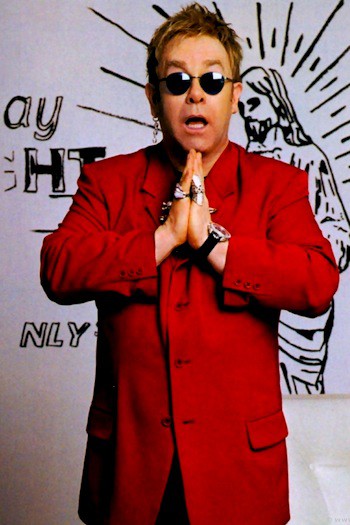 At TrueColorsRadio sings:
1.
I Don't Wanna Go On With You Like That
230
14
AVG
2.
Sacrifice
208
4
3.
Nikitta
197
3
4.
Blessed
157
4
5.
A Word in Spanish
89
4
6.
Blue Eyes
83
4
7.
Daniel
73
2
8.
Candle In The Wind
65
6
Mik3
9.
I Hope You Don't Mind
60
0
10.
Little Jeanie
56
1
11.
Are You Ready For Love
55
5
12.
Don't Go Breaking My Heart
51
1
Mik3
Original name
Reginald Kenneth Dwight
Date of birth
25.03.1947
(75)
Place of birth
Pinner, Middlesex, England
Total songs:
12
Likes:
1324
Dislikes:
48
Awards
1975 - Star on the Hollywood Walk of Fame
1992 - Songwriters Hall of Famein
1994 - Rock and Roll Hall of Fame
1995 - Commander of the Order of the British Empire (CBE)
1998 - Knighted by Queen Elizabeth II
2004 - recipient of a Kennedy Center Honor
2006 - Disney Legends Award
2010 - PRS for Music Heritage Award
6 Grammy Awards

John was born Reginald Kenneth Dwight on 25 March 1947, the eldest child of Stanley and only child of Sheila Eileen Dwight (née Harris) and was raised in Pinner, Middlesex in a council house of his maternal grandparents. His parents did not marry until he was 6 years old, when the family moved to a nearby semi-detached house. He was educated at Pinner Wood Junior School, Reddiford School and Pinner County Grammar School, until age 17, when he left just prior to his A Level examinations to pursue a career in the music industry.

When John began to seriously consider a career in music, his father, who served as a Flight Lieutenant in the Royal Air Force, tried to steer him toward a more conventional career, such as banking. John has stated that his wild stage costumes and performances were his way of letting go after such a restrictive childhood. Both of John's parents were musically inclined, his father having been a trumpet player with the Bob Millar Band, a semi-professional big band that played at military dances. The Dwights were keen record buyers, exposing John to the popular singers and musicians of the day, and John remembers being immediately hooked on rock and roll when his mother brought home records by Elvis Presley and Bill Haley & His Comets in 1956.


Throughout his career, John has battled addictions to alcohol and cocaine. By 1975, the pressures of stardom had begun to take a serious toll on him. During "Elton Week" in Los Angeles that year, John suffered a drug overdose. He also battled the eating disorder bulimia. In a CNN interview with Larry King in 2002, King asked if John knew of Diana, Princess of Wales' eating disorder. John replied, "Yes, I did. We were both bulimic."

John became chairman and director of Watford Football Club in 1976, appointing Graham Taylor as manager and investing large sums of money as the club rose three divisions into the First Division. The pinnacle of the club's success was finishing runners up in the First Division in 1983 and reaching the FA Cup Final a year later. He sold the club to Jack Petchey in 1987, but remained their lifelong president. In 1997 he re-purchased the club from Petchey and once again became chairman. He stepped down in 2002 when the club needed a full-time chairman although he continued as president of the club.Although no longer the majority shareholder, he still holds a significant financial interest.
The note prepared by
Alexandre Gritsouk