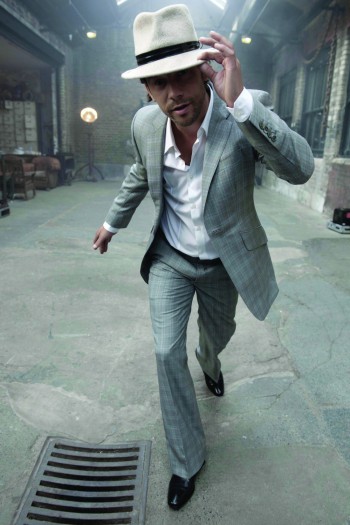 At TrueColorsRadio sings:
1.
Talullah
256
29
Lapshin
2.
White Knuckle Ride
161
12
Lapshin
3.
Virtual Insanity
140
17
Lapshin
4.
Seven Days in Sunny June
110
10
Lapshin
5.
You Give Me Something
107
18
6.
Love Foolosophy
103
12
Lapshin
7.
Blow Your Mind
88
28
8.
Little L
84
18
Anna
Original name
Jason Luis Cheetham
Date of birth
30.12.1969
(52)
Place of birth
Stretford, Greater Manchester, England
Total songs:
8
Likes:
1049
Dislikes:
144
Awards
7 albums sold more than 40 million albums worldwide
1998 - Grammy Award
4 MTV Video Music Awards in 1997 for the "Virtual Insanity"
Top Gear's "John Sergeant Award" for the best dance after learning his time on the Top Gear test track

Kay was born by Karen Kay, a former cabaret singer and television personality. Kay's biological father is Luís Saraiva, a Portuguese former professional guitarist, whom Kay did not meet until 2001.
After Jay Kay's identical twin, David, died some weeks after they were born, Karen brought Kay up largely alone, which gave him "an itinerant childhood, half of it living in 'rural Suffolk and rural Devoní".
James Royal, often misidentified as Kay's stepfather, is Karen Kay's former manager whom she had a relationship with some time during Kay's childhood years. Royal had stated in his 2002 interview in News of the World about 13-year-old Kay's six-month stay in Thailand that he never married Karen Kay, but "still regards" Kay as his "stepson".

Kay formed Jamiroquai with members Toby Smith (keyboards), Stuart Zender (bass), Nick Van Gelder (drums) and Wallis Buchanan (didgeridoo).
Jamiroquai has sold over thirty million albums, and has spent a collective 162 weeks on the UK singles chart between 1992 and 2006 with Kay's personal wealth said to be around £40 million.



After the huge success of Jamiroquai's first single, When You Gonna Learn, a US$1.9 million, eight album deal was signed with Sony Music Entertainment. The band's first album was "Emergency on Planet Earth". The relationship with Sony ended in 2007.
The band's third album, "Travelling Without Moving", generated international attention with the ground breaking video of "Virtual Insanity" which earned Jamiroquai four MTV Video Music Awards. Since then, their fourth album, Synkronized, has done just as well; it was recorded in Kay's home studio located in the garden of his 500-year-old, 11-bedroom Buckinghamshire mansion.

Kay is well known for his array of elaborate hats and headgear. When appearing professionally (in concerts, interviews etc.) he has been referred to as "the mad hatter" for his love of headgear.
Kay has a strong interest in exotic cars and owns over 60 luxury cars, mainly sports cars. His love of cars was expressed with the release of the album Travelling Without Moving. The album's cover featured an adaptation of the "Buffalo Man" logo and the Ferrari crest.
Kay's love of fast cars has occasionally landed him in legal trouble. In May 1998, Kay was caught driving at 111 mph (179 km/h) and his licence was suspended for 42 days.
Kay is anti-religious.
In a 2010 interview, Kay indicated that at one time he had a "substantial" cocaine habit. He has however been free of drugs since 2003.
He recently started his own line of sportswear called Quai, together with the designer Hugo Boss.

The note prepared by
Dmitrii Lapshin