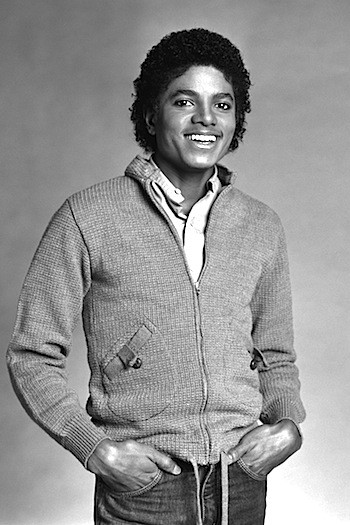 At TrueColorsRadio sings:
1.
It's The Falling In Love
161
54
Lapshin
2.
The Lady In My Life
155
32
Lapshin
3.
Off The Wall
152
34
Lapshin
4.
Don't Stop Till You Get Enough
138
82
Lapshin
5.
The Way You Make Me Feel
129
46
Lapshin
6.
Remember The Time
117
20
Lapshin
7.
Say Say Say
114
15
8.
The Girl Is Mine
100
15
9.
Liberian Girl
100
15
10.
Rock With You
86
24
11.
Heal The World
83
13
12.
Man In The Mirror
80
28
13.
Human Nature
79
12
Gritsouk
14.
Ain't No Sunshine
78
13
15.
Whatever Happens
73
15
Anna
16.
I Just Can't Stop Loving You
63
18
17.
You Are Not Alone
50
23
DeeDee
18.
Never Can Say Goodbye
49
15
Shipiloff
Original name
Michael Joseph Jackson
Date of birth
29.08.1958
(50)
Place of birth
Gary, Indiana
Total songs:
18
Likes:
1807
Dislikes:
474
Awards
1980 - the Hollywood Walk of Fame as member of The Jacksons 5
1984 - the Hollywood Walk of Fame as solo artist
26 World Music Awards
Best-Selling Pop Male Artist of the Millennium
The American Music Award's Artist of the Century Award
Many Guinness World Records
13 Grammy Awards (as well as the Grammy Legend Award and the Grammy Lifetime Achievement Award)
"Artist of the 1980s" - more than any artist
14 number one singles in the US

Michael Jackson was born the eighth of ten children in an African American working-class family who lived in a 3-room house in Gary, Indiana,an industrial city near Chicago. His mother, Katherine Esther Scruse, was a devout Jehovah's Witness, and his father, Joseph Walter "Joe" Jackson, was a steel mill worker who performed with an R&B band called The Falcons. Jackson had three sisters: Rebbie, La Toya, and Janet, and five brothers: Jackie, Tito, Jermaine, Marlon, and Randy. A sixth brother, Brandon, who was a twin of older brother Marlon, died shortly after birth.
In 1964, Michael and Marlon joined the Jackson Brothers—a band formed by brothers Jackie, Tito, and Jermaine—as backup musicians playing congas and tambourine. Jackson later began performing backup vocals and dancing. When he was eight, Jackson began sharing the lead vocals with his older brother Jermaine, and the group's name was changed to The Jackson 5.


In 1978, he starred as the scarecrow in the musical, The Wiz, a box-office disaster. It was here that he teamed up with Quincy Jones, who was arranging the film's musical score. Jones agreed to produce Jackson's next solo album, Off the Wall. In 1979, Jackson broke his nose during a complex dance routine. His subsequent rhinoplasty was not a complete success; he complained of breathing difficulties that would affect his career. He was referred to Dr. Steven Hoefflin, who performed Jackson's second rhinoplasty and subsequent operations.
Jones and Jackson produced the Off the Wall album together. Songwriters for the album included Jackson, Rod Temperton, Stevie Wonder, and Paul McCartney. Released in 1979, it was the first solo album to generate four U.S. top 10 hits, including the chart-topping singles "Don't Stop 'til You Get Enough" and "Rock with You".
"The moonwalk that he made famous is an apt metaphor for his dance style. How does he do it? As a technician, he is a great illusionist, a genuine mime. His ability to keep one leg straight as he glides while the other bends and seems to walk requires perfect timing." Berry Gordy said of the performance, "from the first beat of Billie Jean, I was mesmerized, and when he did his iconic moonwalk, I was shocked, it was magic, Michael Jackson went into orbit, and never came down."
Jackson first used a technique called the "vocal hiccup" in 1973, starting with the song "It's Too Late to Change the Time" from The Jackson 5's. With the arrival of Off the Wall in the late 1970s, Jackson's abilities as a vocalist were well regarded. At the time, Rolling Stone compared his vocals to the "breathless, dreamy stutter" of Stevie Wonder. Their analysis was also that "Jackson's feathery-timbred tenor is extraordinarily beautiful. It slides smoothly into a startling falsetto that's used very daringly".
Jackson has also been referred to as the King of Music Videos, in the 19-minute music video for "Bad"—directed by Martin Scorsese—Jackson began using sexual imagery and choreography not previously seen in his work. He occasionally grabbed or touched his chest, torso and crotch. When asked by Oprah in the 1993 interview about why he grabbed his crotch, he replied, "I think it happens subliminally" and he described it as something that was not planned, but rather, as something that was compelled by the music. "Bad" garnered a mixed reception from both fans and critics; Time magazine described it as "infamous". The video also featured Wesley Snipes; in the future Jackson's videos would often feature famous cameo roles.
Michael Jackson was an American singer-songwriter, entertainer, dancer, arranger, music producer, choreographer, actor, businessman, musician, and philanthropist. Often referred to as the "King of Pop", or by his initials MJ, Jackson is recognized as the most successful entertainer of all time by Guinness World Records. His contributions to music, dance, and fashion, along with his publicized personal life, made him a global figure in popular culture for over four decades.
RIP
The note prepared by
Darya Denisova