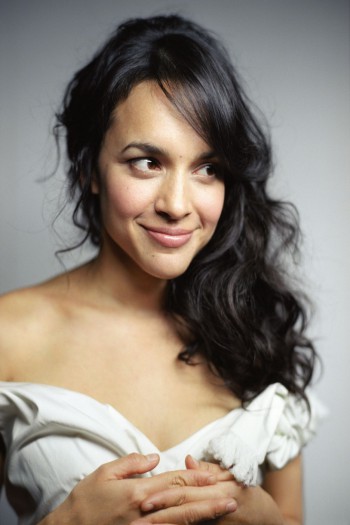 At TrueColorsRadio sings:
1.
Don't Know Why
56
4
Nadya_Zhe
Original name
Geetali Norah Jones Shankar
Date of birth
30.03.1979
(43)
Place of birth
Denton, Texas, USA
Total songs:
1
Likes:
56
Dislikes:
4
Awards
4 World Music Awards
9 Grammy Awards
1 Brit Award
2 DownBeat Student Music Award for Best Jazz Vocalist
1 Best Original Composition Award

Jones was born to Indian sitar player Pandit Ravi Shankar and American concert producer Sue Jones. While in high school, Jones sang in the school choir, participated in band and played the alto saxophone. Jones began singing in church choirs and took piano lessons as a child. She still attends church. She considers herself spiritual and appreciates the rituals of her church but does not consider herself deeply religious.

She attended Interlochen Center for the Arts during the summers and majored the in jazz piano and sang with the UNT Jazz Singers at the University of North Texas. During this time, she had a chance meeting with future collaborator Jesse Harris. Less than a year later, she started a band with Harris, which made her famous.

In 1999 Jones moved to New York City and signed to Blue Note Records, a label owned by EMI Group.


In 2002, she launched her solo music career with the release of the commercially successful and critically acclaimed album Come Away with Me, a fusion of country music and pop with elements of jazz which was certified diamond album, selling over 26 million copies.

Jones released her second album, Feels Like Home in 2004. It was influenced by country music. Within a week of its release it reached quadruple Platinum status, and sold more than 12 million copies worldwide.Jones made her film debut in 2007 in the romance/drama film My Blueberry Nights, and released her third album the same year.

Jones is one of the participants in the so-called "Hank Williams Project" overseen by Bob Dylan, and reportedly including contributions from Willie Nelson, Jack White, Lucinda Williams, and Alan Jackson.

Jones was in a long-term relationship with the bassist Lee Alexander from 2000 until their breakup in December 2007. The lyrics of her subsequent album, The Fall, supposedly reflect elements of the relationship. After a period of estrangement from her father, Ravi Shankar, Jones traveled to New Delhi, India, to spend time with him, and wrote some of the material which made its way onto the album The Fall.
The note prepared by
Natali Chapliuk