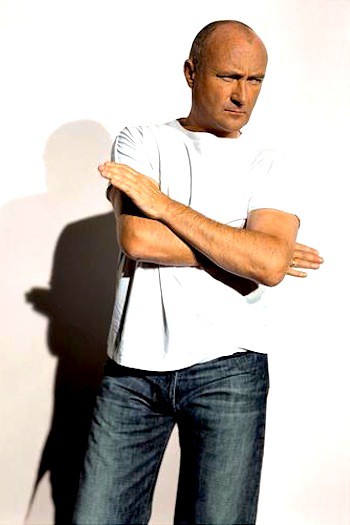 At TrueColorsRadio sings:
1.
Easy Lover
189
5
Shipiloff
2.
Another Day In Paradise
122
1
3.
I Wish It Would Rain Down
97
2
4.
One More Night
94
2
5.
Do You Remember
86
3
6.
You'll Be In My Heart
76
11
Mik3
7.
True Colors
72
2
8.
Everyday
70
5
Gritsouk
9.
Two Hearts
69
3
10.
Something Happened on the Way to Heaven
68
4
11.
You Can't Hurry Love
63
4
12.
I Can't Stop Loving You
60
3
Mik3
13.
Can't Turn Back The Years
50
2
Shipiloff
Original name
Philip David Charles Collins
Date of birth
30.01.1951
(71)
Place of birth
Hounslow (then Middlesex, now London), England
Total songs:
13
Likes:
1116
Dislikes:
47
Awards
3 American Music Awards
6 BRIT Awards
7 Grammy Awards
1 Academy Award (the Oscar)
2 Golden Globe Awards
1 Disney Legend Award
He was inducted to:
- the Hollywood Walk of Fame in 1999
- into the Songwriters Hall of Fame in 2003
- into the Rock and Roll Hall of Fame as a member of Genesis in 2010

Phil Collins was born and raised in Hounslow, London, the son of Winifred M. "June" (née Strange), a theatrical agent, and Greville Philip Austin Collins, an insurance agent. He was given a toy drum kit for Christmas when he was five. Later, his uncle made him a makeshift one that he used regularly. He practiced by playing alongside the television and radio, and never learned to read and write conventional musical notation; instead, he uses a system he devised himself.

Collins's professional music career began as a drummer. Collins's first record deal came as drummer for Flaming Youth (1969). In 1970, the 19-year-old Collins played percussion on the George Harrison song "The Art of Dying". In 1970, Collins answered a Melody Maker classified ad for "...a drummer sensitive to acoustic music, and acoustic twelve-string guitarist". Genesis placed the ad after having already lost three drummers over two albums. Collins arrived early, listened to the other auditions while swimming in Gabriel's parents' pool, and memorised the pieces before his turn. Collins won the audition. Although his role remained primarily that of drummer and backing vocalist for the next five years, he twice sang lead vocals. In 1975 Gabriel left the group to pursue a solo career and then Ñollins became lead vocalist. The first album with Collins as lead vocalist, 1976's A Trick of the Tail, reached the American Top 40, and peaked high as No.3 on the UK charts. Said Rolling Stone, "Genesis has managed to turn the possible catastrophe of Gabriel's departure into their first broad-based American success." Collins simultaneously performed in a jazz fusion group called Brand X. He credits Brand X as his first use of a drum machine as well as his first use of a home 8-track tape machine.

Collins left Genesis in 1996 to focus on his solo career. The dominant theme running through Collins's early solo recordings was the acrimonious breakdown of his first marriage and then-recent divorce. Collins's early albums had a dark presence, usually heavy on the drums. Regarding Face Value, he says, "I had a wife, two children, two dogs, and the next day I didn't have anything. So a lot of these songs were written because I was going through these emotional changes." He released his most successful album, the Diamond-certified "No Jacket Required", which reached number one in U.S. in the summer of 1985. In 1989, Collins produced another successful album, ...But Seriously, featuring the anti-homelessness anthem "Another Day in Paradise". It went to Number 1 on the Billboard Charts at the end of 1989. Collins's record sales began to drop with the 1993 release of Both Sides, a largely experimental album that, according to Collins, included songs that "were becoming so personal, so private, I didn't want anyone else's input". Featuring a less polished sound and fewer up-tempo songs than his previous albums, Both Sides was a significant departure. Collins used no backing musicians, performed all the vocal and instrumental parts at his home studio, and used rough vocal takes for the final product. Collins worked on the album completely independently of his record company. In 1996, Collins formed the Phil Collins Big Band. With Collins as drummer, the band performed jazz renditions of various Collins and Genesis hits.


Phil Collins was an extra in the Beatles' A Hard Day's Night, one of hundreds of screaming teenagers. He was estimated to have a fortune of £115 million in the Sunday Times Rich List of 2011, making him one of the 20 richest people in the British music industry.
In 2009 a statement from Collins on the Genesis band website said, "There isn't any drama regarding my 'disability' and playing drums. Somehow during the last Genesis tour I dislocated some vertebrae in my upper neck and that affected my hands. After a successful operation on my neck, my hands still can't function normally. Maybe in a year or so it will change, but for now it is impossible for me to play drums or piano. I am not in any 'distressed' state; stuff happens in life."
Collins has received several honorary doctorates in recognition of his work in music and also for his personal interests. He wrote the historical book "The Alamo and Beyond: A Collector's Journey", published in 2012. Collins was appointed a Lieutenant of the Royal Victorian Order in 1994. He is also a member of the Fraternal Order of Freemasonry and initiated at SOHO Lodge No. 3 in London. He supports a few charity foundations.
Phil Collins has written songs for the Disney Feature's "Tarzan" and "Brother Bear". "You'll Be In My Heart" from "Tarzan" (1999) won a Golden Globe Award, Grammy and an Oscar. He had three US number one songs in 1985, the most by any artist that year. His "No Jacket Required" went on to win three Grammy Awards including Album of the Year.

Phil Collins is one of only three recording artists (along with Paul McCartney and Michael Jackson) who have sold over 100 million albums worldwide both as solo artists and (separately) as principal members of a band. When his work with Genesis, his work with other artists, as well as his solo career is totalled, Collins had more top 40 hits on the Billboard Hot 100 chart during the 1980s than any other artist. In 2008, Collins was ranked the 22nd most successful artist on the "The Billboard Hot 100 Top All-Time Artists".
The note prepared by
Mikhail Bor